Bowen Community Notes provides important community information to over 650 parents in Newton, MA. For publication, please send a brief notice, ready for publication, in plain text format to: Bowen Community Notes  (no attachments, please). If accepted, your note will be included on the website. The Bowen PTO reserves the right to accept or reject announcements for publication at their discretion. Please visit the PTOC's Community Notes page for even more.
Robotics STEM program in Newon/Wellesley
Do your kids love creating something new and seeing their ideas come to life? Do they enjoy the challenge of building and programming robots? If so, we invite them to join Robotfun Academy (Newton-Wellesley), a new robotics STEM educational program founded by parents from Newton elementary school. Our after-school classes and summer camps, which are open to elementary and middle school students in grades 1-7, use VEX Robotics to teach engineering, programming, and teamwork skills. Let's have some fun building and playing with robots this summer! For more information about our summer camps, please visit our website at 
https://www.robotfunacademy.com/
.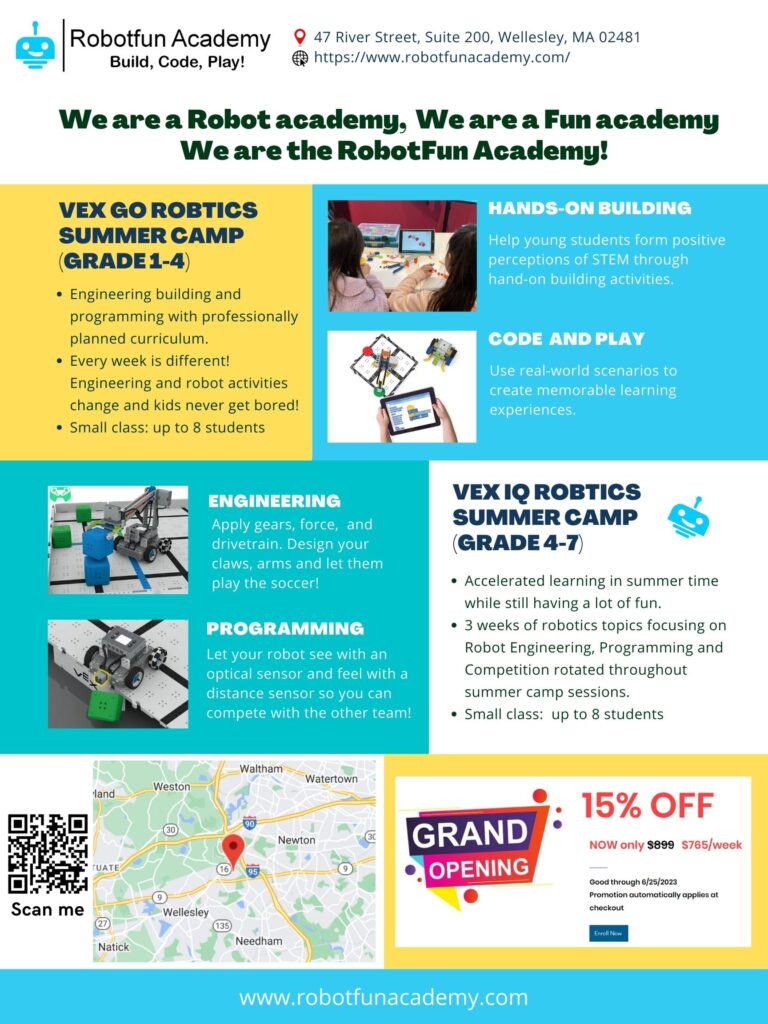 Donations for Bowen Elementary Art Classroom Studio
The Bowen Art Studio is looking for donations of old legos and magnatiles for an upcoming project, if you come across any in your spring cleaning please bring them to the art room!
Thank you!
Cradles to Crayons Clothing Drive
Join BASCP's efforts to make a difference to the children served by Cradles to Crayons. 
We are collecting gently worn clothing donations for those in need. Items can include new or gently used clothing, jackets and shoes. We ask for NEW socks, underwear and pjs. All youth sizes, plus adult small and medium accepted.
May 1-12th
Drop Off at Bowen, 280 Cypress St. Newton, MA from 3:30-6:00pm
Newton Neighbors City-Wide Diaper Drive
Did you know that 1 in 3 families struggle to afford diapers? Diapers are expensive, and having to buy them can take away from a family's ability to buy food or other necessities.
Please support local families who need diapers!
Donate diapers (size NB-7) from April 22nd – May 6th
Dropoff locations are below.
Open boxes are welcome but please put diapers in labeled plastic sleeves or bags.
FamilyACCESS of Newton (492 Waltham St, West Newton)
Drop off inside the front doors from 8:00 am to 6:00 pm when the building is open. Look for a table with a diaper dropoff sign. NO weekend dropoffs.
American Legion Nonantum Post 440 (295 California St, Nonantum)
Drop off in the main office 7 days a week from 9:00 am to 6:00 pm. From the parking lot, enter the glass doors, up the steps, and turn left.
Porch dropoff (128 Herrick Road, Newton Centre)
Drop off in the bin marked "Diapers" at the top of the driveway or on the front porch at 128 Herrick Road.
Purchase diapers from our Amazon Wish List
https://tinyurl.com/nndiaperdrive23
Diapers will be shipped directly to one of our collection points.
Pick up free diapers for your family on May 13th
Pick up diapers between 7:30 am – 12:30 pm at one of these locations – no identification or registration required
American Legion Nonantum Post 440 (295 California St, Nonantum)
FamilyACCESS of Newton (492 Waltham St, West Newton)
Story Starters
Story Starters is enrolling families with children ages 3-8 to participate in our upcoming Fall program. Our eight-week Family Conversations Program is designed for parents who want to start and strengthen conversations about race with their young children. Story Starters gives families age-appropriate tools and skills to have meaningful conversations about race and racism. Story Starters families learn from educators, racial justice advocates, and each other.
Our program provides families with:
A bundle of 6 books tailored to your children's ages

5 caregiver guides full of research, resources, and family activities to support and deepen family race conversations

4 curated book lists to support further exploration and conversation

3 in-person family events and 2 virtual caregiver workshops

A vibrant community of families seeking to make an impact in their homes and beyond
The program kickoff is October 1 from 3:00-4:30pm. For additional program dates and details, visit: www.story-starters.org/program.
*Now through May 31, sign up with a friend and save 20%. Use promo code BUDDIES when registering.
A Step Ahead Basketball Camps
A Step Ahead Basketball Camps are back for its 27th consecutive summer in Newton.  Camps are for boys and girls ages 7-15 and take place at both the Brown Middle School and Mount Alvernia Academy.  Space is limited…
Since 1997 ASA has been serving the Newton community offering camps, clinics, skills training and AAU basketball.  We hope to see you soon: Register at: 
Summer Camps
 / Contact:  
Coachb@asahoops.com
"
Newton's One-to-One Program
Newton's One-to-One Program, our very own "big brother/sister program" has been matching wonderful high schoolers with children in grades one through five for almost 50 years.  If you think your elementary aged child would benefit from a mentor in their life and you can commit 2 hours each week to have your child meet with a high school mentor from November to May – you should contact us. 
Here is a link to the program information and application:
https://docs.google.com/document/d/13n7IzUcTVmpneoE4baEZUfnwARu1kiTYAkQa1WfNyRA/edit?usp=sharing

For questions or more information, please contact Rebecca Young, Program Coordinator, at youngr@newton.k12.ma.us or 617-315-8733
Support Newton Kids
The Department of Children and Families is seeking to keep Newton children in their schools and communities. We want to ensure that when DCF assumes care and custody of a child, that child is able to remain in their school, with their friends and the adults that support them. In order to accomplish this, DCF is looking for Newton parents who
would consider becoming a short-term caregiver for a student in need at their child's
school.
Please complete this brief survey if you are interested in participating or learning more.
The Bowen PTO web site and any email messages generated from same may publish announcements and links on behalf of third parties with the goal of publicizing information that may be of value and interest to the Bowen school community. Some information contained herein may concern programs, activities, or entities unrelated to the Bowen PTO and whether the intended or unintended recipient, you are advised that the disclosing, copying, distributing or taking action based on the reliance of this information is at your own risk.