Bowen Community Notes provides important community information to over 650 parents in Newton, MA. For publication, please send a brief notice, ready for publication, in plain text format to: Bowen Community Notes  (no attachments, please). If accepted, your note will be included on the website. The Bowen PTO reserves the right to accept or reject announcements for publication at their discretion. Please visit the PTOC's Community Notes page for even more.
Newton South Baseball Clinic for Grades 3-8
The Newton South Baseball Program is running a clinic for grades 3-8 on Saturday April 15th and Sunday April 16th from 9am-12 pm, on the Newton South Baseball field.
(Rain date: Tuesday April 18 from 9-12)
The clinic will be run by Coach Williams and his staff, as well as current Newton South players.  The cost will be $100 per player, and all money raised with directly support the Newton South Baseball Program.  If you are interested, please email Coach Williams (williamsp@newton.k12.ma.us).  Please note that we must have at least 10 players signed up to conduct this clinic.
Boston Children's Hospital Opportunity
GET MILK DELIVERED TO YOUR HOME

Get Milk Delivered! Advance Science! Earn Money! Boston Children's Hospital is conducting a research study to compare the effects of whole milk and nonfat milk on children's nutrition and health. Learn about enrollment for 9-12 year olds at https://www.childrenshospital.org/milkstudy.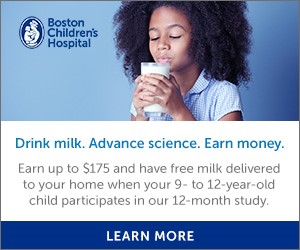 BKBX
DESTINATION: EVERYWHERE

A Rollicking Adventure through Invisible Worlds from BKBXKids!
Saturday 3/25, 12pm at the New Art Center
$15 per family suggested donation
No one turned away for lack of funds
For kids age 3-7 and their loved ones

and

BKBX in NEWTON
An Innovative Evening of Physical Storytelling
Monday 3/27, 7:30pm at the Newton Free Library
Free admission, Reservation encouraged
Adventurous 12 and up; includes some adult content
Ticket reservations and more info HERE!
Newton SouthEast Little League Spring T-ball
NSELL offers a fun and exciting t-ball program for kindergartners and rising kindergarteners.The season runs from late April through the end of the school year and the league serves players who reside or attend schools within district boundaries of Memorial-Spaulding, Mason-Rice, Bowen, Angier, Countryside and Zervas.
Click 
here
 to register. Questions? Contact the league by 
Email
 or check out our 
Website
.
Upcoming NCE Classes
Tuesdays from 3-4pm
Starting March 14
Mondays from 3-4pm
Starting March 20
Mondays from 3-4pm
Starting March 20
Wednesdays from 12:30-1:30pm
Starting March 22
A Step Ahead Basketball Camps
A Step Ahead Basketball Camps are back for its 27th consecutive summer in Newton.  Camps are for boys and girls ages 7-15 and take place at both the Brown Middle School and Mount Alvernia Academy.  Space is limited…
Since 1997 ASA has been serving the Newton community offering camps, clinics, skills training and AAU basketball.  We hope to see you soon: Register at: 
Summer Camps
 / Contact:  
Coachb@asahoops.com
"
BEE Competitions at Brown Middle School April 1st
History, Geography, and Science Bees happening at Brown Middle School.  Register by 3/19/2023 at https://usa.iacompetitions.com/
Newton Youth Lacrosse
Learn to play North America's oldest team sport and the fastest game on two feet!  Newton Youth Lacrosse 2023 season registration is now open for boys in 1st through 8th grades, and beginners of any age are welcome!
NYL is dedicated to providing Newton boys and their families with a community-based developmental lacrosse program.  Boys will have an opportunity to learn the game of lacrosse while being placed on evenly balanced teams to play against neighboring towns – we focus on equal playing time for all, and emphasize learning, mentorship, sportsmanship, and above all, fun!  We welcome NEW players at any age or grade (we typically have many new middle school players each year). Financial aid is available for qualifying families.
Practices start in March and end in June, and games are played on Sundays starting in April.  Learn more about the program here: http://newtonyouthlacrosse.com and register at http://newtonyouthlacrosse.com/registration
Please contact Jason Boggs with any questions about the program or to be connected with a current NYL parent: jboggs15@gmail.com
Little League Registration
Newton SouthEast Little League Spring Registration Now Open
NSELL offers fun and exciting baseball programs for players in grade K through 6. Rising kindergarteners are welcome in our T-ball program. The season runs from late April through the end of the school year and the league serves players who reside or attend schools within district boundaries of Memorial-Spaulding, Mason-Rice, Bowen, Angier, Countryside and Zervas.
Register by February 18th to ensure your child's space.
Click here to register. Questions? Contact the league by Email or check out our Website.
Newton Cultural Development's music and art program, Time for Partners, is in full swing Tuesdays, Wednesdays, and Thursdays at City Hall. Toddlers make art, music, and friends, together with their adult partners. The winter/spring session is open for registration now; for more information or to register, click here.
Join us for an art & music program for children 18 months to 4 years (with an adult). Children make a new art project weekly, have play time, snack, and music & movement. Classes are held at the War Memorial/Cultural Center Auditorium at City Hall on Tuesdays, Wednesdays, & Thursdays from 9:30 -11:15 am.
Newton Girls Softball
Registration for Spring Rec 2023 Softball is open! Sign up your player(s) in the appropriate grade level division HERE. Sign up now and check it off your to-do list! For any questions, please contact info@newtongirlssoftball.org 
Newton's One-to-One Program
Newton's One-to-One Program, our very own "big brother/sister program" has been matching wonderful high schoolers with children in grades one through five for almost 50 years.  If you think your elementary aged child would benefit from a mentor in their life and you can commit 2 hours each week to have your child meet with a high school mentor from November to May – you should contact us. 
Here is a link to the program information and application:
https://docs.google.com/document/d/13n7IzUcTVmpneoE4baEZUfnwARu1kiTYAkQa1WfNyRA/edit?usp=sharing

For questions or more information, please contact Rebecca Young, Program Coordinator, at youngr@newton.k12.ma.us or 617-315-8733
Support Newton Kids
The Department of Children and Families is seeking to keep Newton children in their schools and communities. We want to ensure that when DCF assumes care and custody of a child, that child is able to remain in their school, with their friends and the adults that support them. In order to accomplish this, DCF is looking for Newton parents who
would consider becoming a short-term caregiver for a student in need at their child's
school.
Please complete this brief survey if you are interested in participating or learning more.
You may have noticed the new Blue Zone signs at your school with the red "No Idling Per State Law" addition.  Vehicle idling is when a driver leaves a vehicle running while it is parked. Idling increases the amount of harmful emissions a vehicle produces. Vehicle emissions are more concentrated at ground level where kids are standing—and breathing.
Children breathe more air per pound of body weight than do adults. For this reason, they take in proportionately higher "doses" of any pollutants, which enter their lungs and, in some cases, bloodstream. Children are more biologically vulnerable to pollution from idling vehicles and the child with the highest exposure to pollutants may be your own; in a line of idling vehicles, pollutant levels may also be elevated inside your vehicle as well as outside.
What can you do to protect your child's health? For parents and caregivers at arrival and dismissal, it's simple. If you will be waiting for more than 10 seconds, turn off the engine.
Remind other drivers to do the same.
Check out the flyer No Idling.
Brought to you by Newton Safe Routes to School
For more information, email newtonsaferoutes@gmail.com or visit https://www.facebook.com/NewtonSafeRoutes/
The Bowen PTO web site and any email messages generated from same may publish announcements and links on behalf of third parties with the goal of publicizing information that may be of value and interest to the Bowen school community. Some information contained herein may concern programs, activities, or entities unrelated to the Bowen PTO and whether the intended or unintended recipient, you are advised that the disclosing, copying, distributing or taking action based on the reliance of this information is at your own risk.