Welcome to the Bowen PTO! We are in the midst of another great year with our vibrant Bowen community, though this year looks different than previous years. There are many programs, events and initiatives happening this year that are enriching our students' experiences and enhancing our Bowen community for children learning in both hybrid and DLA models. We wholeheartedly invite you to participate in PTO activities throughout the year and thank you for taking the time to be involved. It is a sure way to put a smile on your child's face.

Bowen Bobcat Cookbook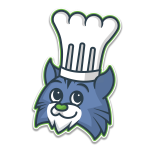 There are over 80 delicious recipes from appetizers to desserts representing cuisines from around the world. We are sure you will find some new family favorites! Get cookin' with the Bowen Bobcat Cookbook. Buy one today for $15 and celebrate Bowen's diverse community.
Click here to place your order before May 29th. The cookbooks will be available for pick up by mid-June
Bowen PTO Open Meeting June 3 7:30pm
Join the Bowen Parent-Teacher Organization (PTO) at our open meeting to close out the year on June 3 at 7:30 PM. We will recap our year and review the budget starting point for the 2021-2022 year. We will also discuss volunteer opportunities, particularly at the board level.
Check your email for details or contact chair@bowenpto.org.
Support our Fifth Graders with New Bowen Bobcat Spirit Wear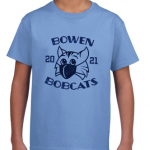 Here's a chance to add to your Bowen Spirit Wear pride and support our graduating 5th graders with our 2021 masked Bowen Bobcat t-shirt.
You can now place your order for Bowen Spirit Wear T-shirts by visiting: . Ordering is open now through May 30. Proceeds will go to Bowen 5th Grade Activity Fund. Please contact Nelly Xavier at ncxavier@gmail.com for any questions.
Thank you Project for Ms Wenger
After teaching for 37 years, the last 23 at Bowen, our beloved art teacher, Ms. Wenger is retiring at the end of this school year. To say thank you for all she has done, we'd like to show her the impact she had as seen through our eyes.
Click here to see how we are honoring her and contribute words or an image from your family.
Bowen PTO Directory
The Bowen PTO Directory has been updated to use Membership Toolkit as our new directory app. Please click this link to access the new website.